It is possible to make an equal partnership between an asylum seeker and a Finnish company. The partnership aims at starting a business in Iraq. For the cooperation to work the partners need to make a clear and comprehensive written contract. Roles, responsibilities and rights need to be carefully determined. It's best for all the participants that the asylum seekers find themselves the best possible entrepreneurship path, and that it fits into the Finnish business partner's values and business model.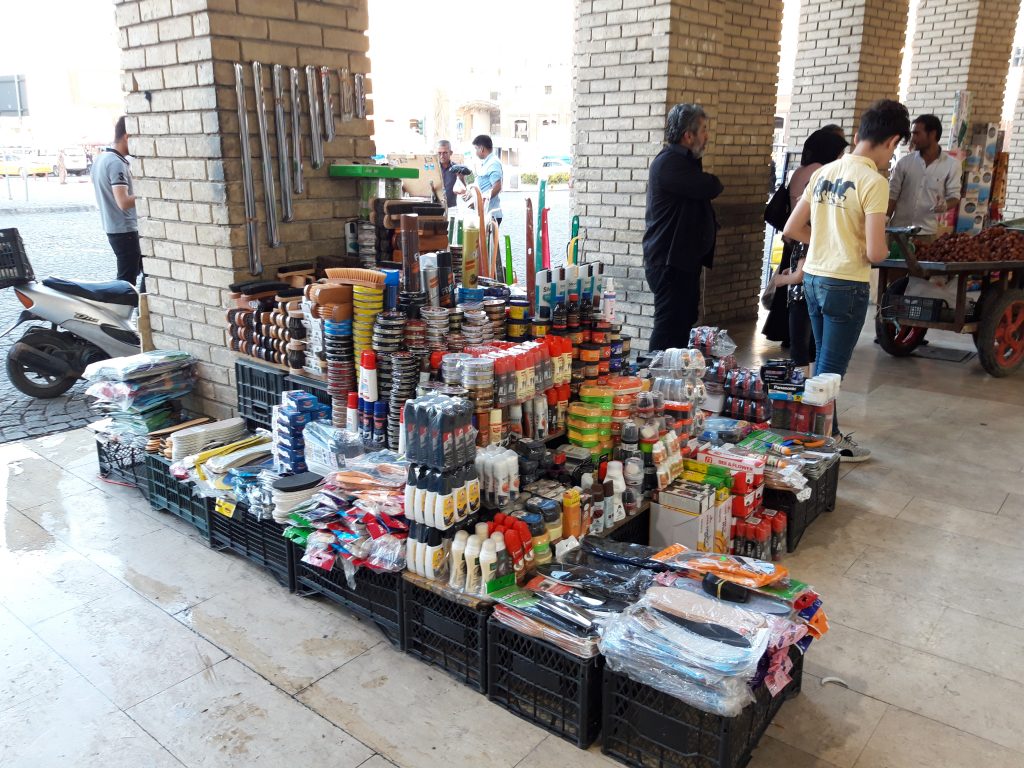 1. Asylum seeker as an employee and contract partner
When mutual contracts are made they should be made in written even though the law does not require it. The contents of the contract should be as clear as possible to leave no room for interpretation. When a contract is written you should first read it carefully. In important contract matters it is good to use legal experts. If you don't know your partner beforehand, you should check his or her background and make sure that the person signing the contract has the legal right for signature.
An asylum seeker needs to have an official permission to work in Finland. A residence permit is not needed to work as an employee. The permission to work gives the right to have a paid job or apprenticeship. Without the permission to work an asylum seeker can only have unpaid internship or do unpaid voluntary work.
If an asylum seeker has received a negative decision, his or her working permit is no longer valid from the moment the decision is legit. In practice this means that a complaint or a claim for correction has not been made in a given time. Working does not affect the process of getting an asylum or being rejected an asylum. You can hire an asylum seeker and most of the asylum seekers work or study.
The law of equality and parity forces the employers to prevent discrimination in the working life. The determination of the availability of labor made by the Public Employment Office is not considered discrimination. Person coming outside the European Union or ETA countries can have a residence permit for an employed person but it depends on the situation on the domestic job market. If the domestic job market is saturated and workforce is available in Finland, it is not easy to get a residence permit for a employed person. The availability consideration does not hinder asylum-seekers from working if a person already has a working permit based on the asylum seeking process; the availability consideration only affects the possibility of getting a residence permit for a employed person.
If a company wants to offer an orientation period for an asylum seeker, the phase or status of the asylum seeking process should be checked. In case of persons with a negative decision – when they still reside lawfully in the country – it is best to organize the company orientation with no salary. A company may consider paying salary during the orientation if the person has a valid working permit e.g. if the person has made a complaint on the decision on time or the person is reapplying an asylum with a different reason. The company is responsible for the costs of the orientation.
A Finnish company can make a contract with the asylum seeker having a negative decision. The contract can assign the person with a negative decision for asylum to operate in Iraq as an independent representative, retailer, sales agent, or a subcontractor for the Finnish company. Hiring the asylum seeker who has received a negative decision and has no valid working permit is possible if the Finnish company has an office in Iraq and the employee is working and staying in Iraq..
This however, requires registering the Finnish company in Iraq which is not necessarily purposeful. An asylum seeker with a negative decision can start up a business in his/her own country if he or she chooses to return voluntarily into the home country. A negative decision on asylum by no means prevents creating business relations with a Finnish company. Starting a partnership, possibly setting up a private business in Iraq, and a voluntary return do not mean that the asylum seeker would get a guarantee of the asylum if he or she chose to reapply it later.
Additional information
To become an entrepreneur in Finland (infofinland.fi)
2. Wage subsidy
If an employer hires an unemployed job seeker, the employer may get a wage subsidy. Wage subsidy is admitted with consideration. It is admitted by the public employment office if the person hired is lacking some professional competency. The length of unemployment affects the amount and duration of the wage subsidy.
The salary paid to employees must equal the salary defined in work contract. Wage subsidy can be admitted to a permanent or temporary job.
Additional information
Public Employment Office web page
4. Immigrant or asylum seeker as an employee or entrepreneur
To become an employee requires a valid work permit of an asylum seeker. If a company is hiring an asylum seeker as an employee, the same collective agreements are used as with any other employee. The contracts follow the Finnish labour code as well as collective agreements and conditions of each professional field. It is the employer's duty to find out if the asylum seeker has a work permit. If this duty is overlooked, the employer may be charged of a crime or a violation of law. An asylum seeker will get a permission to work three months after his or her arrival to Finland. If the person does not have a valid passport or other travel document available, the work permit is given after six months.
Asylum seekers cannot start up a business in Finland. Unless the immigrant lives on any ETA or European Union country permanently, he/she needs an entrepreneur's residence permit to be able to conduct professional business operations in Finland. Residence permit is not granted solely based on owning a business but working in the business is required. The work must also take place in Finland. The residence permit is normally applied before arriving in Finland. The permit can be applied electronically via Enter Finland service. In addition, a person has to identify and present the original documents in the office after arrival. The residence permit can be applied with a written application document which is submitted into the Finnish Embassy of the country where the person currently lives.
The entrepreneur's residence permit is handled in two phases. First, the ELY Centre (Centre for Ecnomic Development, Transport and the Environment) makes a partial decision. It estimates if the business operations are profitable and if it is enough for making a living in Finland. The profitability of the operations are estimated on the basis of the business model plan, pre-contracts and financing. When the initial decision is ready the migration office will handle the application and make the final decision. An entrepreneur can also apply for a startup business permission. A start-up entrepreneur has to acquire a positive declaration given by Business Finland before applying for a residence permit in the migration office.
A person with a negative decision can freely go back to his or her home country and start a business there. In Finland they cannot set up a private business. Setting up a company in Finland always requires a residence permit if the person does not have a permanent place of residence in ETA or European union country or in Switzerland. Thus, setting up a business in Finland is not based on citizenship but on permanent residency or residence permit. Some asylum seekers apply for a residence permit for employed person after having a negative decision, but in this case consideration of available workforce affects the admittance of the residence permit. Finnish citizens as well as the European Union or ETA country citizens are priorities in recruiting new employees. If a suitable worker is not available from these groups can an immigrant be admitted a residence permit for employed person. The availability consideration is done by the public employment office and the migration offers respect and follows this decision when they make solutions for resident permanent residence permit applications.
If an asylum seeker returns to his or her home country and starts a business there, a partnership deal with a Finnish company can apply several forms of reimbursement. These contract forms are summarized in the next chapter.
Additional information
https://enterfinland.fi/eServices
Centre for Economic Development, Transport and the Environment – web page
Finnish Immigration Service – web page
The Finnish Enterprise Agencies – web page
5. Contract options as an employee and entrepreneur
Commission salary
In addition to getting a monthly salary a commission salary can be paid, based on the sales results. The commission amount and payday is defined in the job contract. The reward e.g. provision can be calculated in different ways. For example a salesman can sell products and a predefined percentage of profits goes to the seller and the rest is accounted to the main company. Or, commission can be based on the amount of sold items or the amount of overall profit. The amount of commission can increase cumulatively; for instance that the more you sell the more commission you get. Asylum seekers do not necessarily know the concept of commission salary. Be clear when you agree on the commission percentage, and about the amount of sales profit it is paid for. It is also worth defining when commission is paid and when not.
Sales representative
A sales representative is an employee which works for the company for sample by selling the company's products, marketing the products, or producing customer service to the mother company.
The sales representative is on the mother company's payroll. He is not an individual entrepreneur such as a sales agent. The customers of a sales representative are other businesses officials and organizations – they do not sell directly to individual consumers.
A sales representative may have a basic salary, and additional provision is paid based on the actual sales or invoicing afterwards. A sales agent is an independent operator and a sales representative is an employee.
Subcontractor
A subcontractor is an individual person or in many cases of company which is committed to acquiring or implementing a task or preparing a product as described in a separate contract. A subcontractor has not made the contract directly with the end customer, but they use one or more dealers (so called middle man companies).
If an asylum seeker works as a subcontractor for Finnish company, a written contract should be drafted. Define the length or validity period of the subcontracting deal, specify which criteria are used and which operations are included in the contract.
Private entrepreneur
A person who owns his/ her own company and is financially responsible for it, is called a private entrepreneur. In practice an asylum seeker may set up a business in his/ her home country and operate as a retailer for a Finnish company or its product. Private entrepreneurs can freely define which goods or services they sell. A private entrepreneur can also hire more employees when the company's financial situation is good.
A private entrepreneur can also be a franchising operator. This means that the entrepreneur gets a ready-made business model or concept and trademarks for his or her use on the basis of the franchising deal. This kind of operational model requires a detailed written contract.
Before setting up a business the person should draft a business model plan for designing a profitable business:
Description of the business idea
Description of the competencies needed
Description of the products
The needs of customers and the customer base
Field of operation and the competitive situation
The market share and development of the market
Marketing and advertising
Risks – business operations are always risky
Immaterial rights
Calculations – financial calculations – profitability calculations
Additional information
Light entrepreneur
Light entrepreneurship means that a person performs different kinds of tasks and defines a price for the work done. However, an invoicing service takes care of the invoicing from the client, and it also pays the person performing the job. The invoicing company also takes care of legal announcements and payments to the tax office and insurance companies. An invoicing company charges the light entrepreneur according to its own service fees. Light entrepreneurs need to have an entrepreneurial pension insurance.
Sales agent
A sales agent or manager works for his or her customers in order to back up their profit, livelihood, employment, sales results or market share. For example actors, musicians, authors and artists have agents and managers.
A company can have sales agents. They are independent private entrepreneurs which the manufacturer has chosen as their official representative. The sales agent or a sales representative does not sell the product with a higher price but with a price defined by the manufacturer. A company can also have a sales agent or wholesale retailers which distribute products to customers. A wholesale agent sells products bought from different companies with a higher price in order to get profit. Also a customer service company can be an agent; for example some mobile operators may outsource their customer service to independent agent companies.
Sometimes it is difficult to distinguish between subcontracting and sales agent operations. An agent is, however, usually the only representative of his or her partner company, whereas a big company may have lots of subcontractors with different small scale businesses.
An agent or a sales agent is a company for often a private entrepreneur, which is paid a certain percentage of the sales or a commission based on actual sales, service or invoicing afterwards. The commission rate is agreed with a written contract between the sales agent and the manufacturer. The commission varies according to the market situation and the product type in question. The agent agreement is a common way of practicing business in another country or in another geographical continent.
5. Reimbursements
An agreement with an asylum seeker should clearly define who is responsible for the costs and expenses of the business operations. For example, responsibility for the export and import customs payments and transportation costs have to be agreed on by contract. Also the reimbursements concerning any legal matter should be anticipated if possible. The partners need to make sure that both parties have adequate insurances.
Insurances
Insurance is an agreement between an insurance company and a private entrepreneur or individual. The insurance company receives annual payments for the insurance. If something happens (for example your house or car is destroyed), the insurance company will compensate the financial losses.
In Finland the only obligatory insurance is the entrepreneur's statutory pension insurance which forms the basis for the social security for retirement. Entrepreneurs define their profit by themselves, and this estimate affects the amount their monthly pension payment. It also influences the amount of unemployment benefit, parental allowance and sickness allowance. If the entrepreneur has employees, he has to take a statutory accident insurance which covers the costs of work-related accidents or professional diseases.
The agreement must discuss responsibility issues, for example compensations for the products if they are damaged during transportation. The agreement has to state if the company insists that an asylum seeker has his or her own liability insurance. The asylum seeker's responsibility is to check what kind of insurance is he or she needs in Iraq to conduct business operations.
Voluntary insurances are
voluntary employment insurance (e.g accident insurance) which can be connected with a leisure insurance
suspension insurance which compensates for the loss of profit if the business operations are suspended for some reason
liability insurance which replaces the damages cause to a third party and covers possible legal expenses
legal insurance which covers for juridical expenses resulting from e lawsuits or agreement breaches
Additional information
Service fees
Service fees can include different service payments connected to licensing processes. Fees may occur as extra service costs when using third-party operators. Service fees are often paid for banking services and while purchasing products and services with invoicing. In Iraq, business operations include lots of unofficial service fees which can be demanded to be paid in cash.
Expenses (e.g documents, passports)
The responsibility for the daily cost of business operations must be clarified. These costs include internet connection, phone bills and the use of car. If the asylum seeker is a private entrepreneur, he must take care of these expenses by himself. If an asylum seeker is a freelancer agent or sales representative, the responsibility for these types of expenses has to be agreed upon.
When an asylum-seeker returns to his or her home country and starts a business, he / she may have to acquire different kinds of documents already in Finland. Sometimes they have no passport. In the agreement between an asylum seeker and a Finnish company you must outline who pays for the expenses.
The business operation costs in Iraq are discussed in the section "As an entrepreneur in Iraq".
6. Other matters
Non-disclosure agreement
Business operations are based on a trusting relationship between an entrepreneur and an employee. This means the company's trade secrets are not to be told to outsiders. The most common way of protecting confidential information is a non-disclosure agreement (NDA). Non-disclosure agreement may protect the company by documenting a person's pledge of not to use or mediate any information of the company's state or other matters to a third party. If an employee violates the conditions of the non-disclosure agreement, legal consequences may occur.
The company should discuss about trust with the asylum seeker and draft a written agreement. The contract should include information on what kind of sanctions will follow for violating the oath of secrecy. Moreover, the parties should agree on what kind of information can be published.
Copyrights & immaterial property rights
Both companies and private individuals have copyrights. This means that a text, product or any other kind of material made by an individual cannot be copied or distributed without the permission from the original owner. For example of photo taken by another person must not be forwarded unless you have the permission from the photographer. In Finland creative work is protected by the Finnish Copyright Act.
Industrial rights (patents, trademarks, trade dresses) protect, commercialize and manage any kind development work done in a company. These rights have legal purposes which give the possibility to both deny and yield a license to use a particular object for example a piece of technology, trademark, design) for commercial purposes.
The patent and registration office admits patents for inventions. A patent is an exclusive right by which your invention is secured against professional exploitation. Exploitation means for example production, sales, use and import of the patented product.
Immaterial property rights (IPR) are applied in the works of creative art. Creative Commons licenses can be used for sharing the immaterial rights of your work to another user or viewer. By combining different licenses you may share your rights for different purposes in different situations.
The company and an immigrant should discuss about copyrights and agree on what copyrights and immaterial rights mean in their contract.
Additional information
Copyrights in Finland (Ministry of Education and Culture)
Finnish Patent and Registration Office – web page
Finnish Copyright Decree in Finlex
Information on Creative Commons Licenses
Data protection, data breach
All businesses should pay attention to installing a suitable data protection software in their electronic data systems. The data protection software prevents outsiders or hackers from breaking into the electronic systems and losing important data. Data breach means using another person's user ID while logging into or otherwise breaking into a data system which handles, stores or transforms information in any technical way. Also using separate special devices for breaking into a data system or one of its section without permission is considered data breach.
Child labour
Child labor and child workforce means using under 18-year-old children for tasks which are physically, psychologically, morally and socially harmful or dangerous, or which disturbs or prevents the children's school attendance. There is a law in Finland given in 1993, which states that a person who has not turned 15 years old who has not finished the compulsory education cannot be hired into a permanent job.
Not all countries have laws on child labor as Finland does. Because of this all contracts concerning foreign business operations should discuss and separately agree on using child labor.
Additional information
Finnish Committee for Unicef – web page